ConnectFusion Download Accelerator
ConnectFusion is a very fast open source download manager. It will accelerate your downloads from the Internet and resume broken connections. ConnectFusion includes an easy-to-use interface and its installation does not interfere with the normal behavior of your browser.ConnectFusion is 100% free, never expires, and does not contain any spyware or advertisement. Its source is freely available to any one who wants to inspect or modify it
Accelerate downloads for different types of Internet connections - dial-up, cable, DSL / ADSL, satellite, T1, etc.
Supports simultaneous connections. Up to 8 connections for the same file. This method will speed up your downloads significantly. Stop and resume broken downloads. Recover from a dropped Internet connection.
Does not interfere with the default behavior of web browser.
Supports batch downloads from the Internet. Perform batch downloads by queuing multiple files and leaving your system totally unattended.
Drag & drop features. Drag a link into ConnectFusion to download. Drag a file from ConnectFusion into a folder to save.
Well designed interface. Compact, Stable and Easy to use.
Totally free. Never expires. No spyware. No advertisement.
Open Sourced. Inspect the code and compile it yourself for the ultimate peace of mind.


Startup




Download In Progress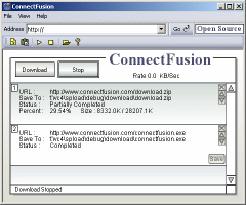 Download Stopped



5/01/2005

ConnectFusion Download Accelerator is now available in French. For more information, please click here.


23/10/2004

The Italian version of ConnectFusion Download Accelerator v1.0 is now available, thanks to the translation by "Diodeldragone". For more information, please click here.


29/4/2004

Connectfusion download accelerator v1.0 is released.



From our Partners

Professional Barcode Software



Links: ASP.NET Barcode